A Brief History of Llandudno
Feature Page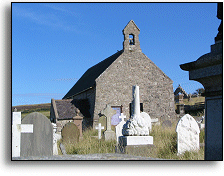 The town was named after St. Tudno a 6th century saint who brought Christianity to the area, the "Llan" prefix means loosely "parish".

website link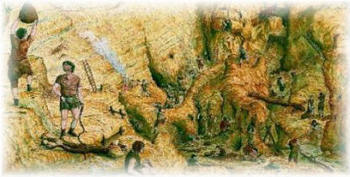 Evidence going back 4000 years has been found on the huge carboniferous limestone hillside the 679 foot Great Ormes Head that copper was mined there in the Bronze Age and during the Roman occupation.

Mining actually continued until 1850 when the accessible ore was exhausted.

website link


Llandudno consisted of just a couple of hundred homes with less than 1000 inhabitants who either worked the land or down the mines prior to the Act of Enclosure in 1849.

At that time wealthy landowners, the Mostyn family had great ideas for the development of the town and its surrounding areas.

website link

In Victorian times there was a great need for resorts where people could escape their everyday working lives, not just the white collar workers and upper classes of the day but the factory, mill and pottery workers who for a week or two could feel the sun on their faces and breathe in the clean air without city or chimney fumes.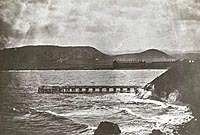 The Mostyn family in conjuntion with a group of local business men soon transformed the town into a Victorian sea-side holiday resort, and with the arrival of the railway in the 1850's visitors arrived in abundance, thus changing the fortune of Llandudno for ever.

The original pier was completed in 1858 and with visions of ships from Ireland and Liverpool bringing more business potential Llandudno was bustling and thriving,but all these visions were destroyed in the great storm.


website link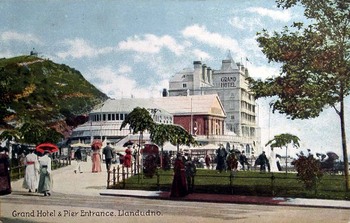 This event was captured in the 1952 romantic period comedy called "The Card" starring a young Sir Alec Guiness as was the town of Llandudno.

The pier was rebuilt in 1875 by the one you can stroll along today.

The Grand Hotel was opened in 1902, and all the sea front accommodation essential for large numbers of Victorian visitors.
Latest News & Special Offers